It is estimated that nearly half the population in the United States suffer from some sort of chronic disease, illnesses or ailment and consume medication to combat their medical conditions.
While we live in a highly polluted environment it has become extremely important to detoxify. Since ancient times steam has been used by cultures around the world to achieve this purpose and establish good health.
Portable steam saunas have been in use for many years, and are an economical and easy way to enjoy the benefits of steam therapy in the privacy of your home.
However, the infrared saunas have, over the past few years, become more popular as they operate more efficiently and use far less energy making them very cost effective.
Like full size built in saunas the home sauna aims to improve circulation, and increase cardiovascular activity by dilating the blood vessels through heat therapy and sweating.
These saunas are good for everyone used on a daily or bi-weekly program they can help you better manage stress, improve your health and relieve you of aches and pains using this heat therapy.
What Are The Particulars Of This Sauna?
The Durherm X Large EMF Free Negative Ion FIR Infrared Portable Indoor Sauna, provides relaxation and enjoyment.
This sauna folds up easily for storage under a bed or in a closet for added convenience it also comes with a comfortable sports canvas folding chair.
It uses very little electricity and emits minimal EMF. Please note that this sauna is almost EMR/EMF free and is between 200 and 600 times lower than any other Fir carbon sauna heating panel currently on the market today.
Includes two soft terry cloths (washable) neck collars that zip on and off for easy cleaning.
comes with a storage pocket for the remote control.
The large Durherm Portable Far Infrared Sauna generates more heat and draws less power than competing portable saunas.
A short warming time means less energy used which equals money saved.
Three heaters that are high tech, made of super conductive ultra thin Japanese made tourmaline panels. Note: Tourmaline is a semi precious mineral well known for it's incredible ability to aid in the detoxification process of the human body.
Lightweight at only 25 lbs.
Integrated heated foot-pad.
What Benefits Are There To Choosing This Sauna?
Despite the portable saunas size, it's efficiency in giving you a a great sauna experience is never questionable. Aside from being more private, you get to enjoy this sauna whenever and wherever you want to because it is portable.
Perhaps the only difference between the portable and commercial sauna is the number of people it can accommodate at one time, however everything else is basically the same.
This sauna comes with three high tech heater panels ensuring the machine heats up quickly. The panels are made of tourmaline, a semi precious mineral that emits infrared waves and negative ions. Just 10 minutes of using this sauna corresponds to 30 minutes of jogging!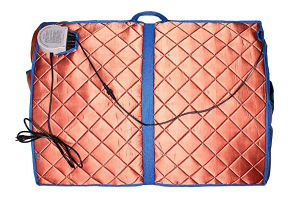 The Infrared sauna directly heats your skin with deep penetration only using 20% of the heating properties around you. This is not only more effective, It also allows for a quicker sauna warm up time.
Using infrared technology, this machine will heat up in 5-10 minutes whereas a steam sauna would take a full half hour to reach the desired temperature.
Choosing this sauna with infrared technology, will aid in weight loss, it will help you relax, relieve unwanted pain, increase your circulation, and purify your skin as well as detoxify your body.
In this world of ever increasing medical conditions, research is continually expanding and new things are discovered every day, and more and more the benefits of saunas are coming to light.
One of the latest findings show how saunas can help you reduce your risk of heart disease. It seems to help people at risk of heart disease by helping to lower blood pressure or high cholesterol levels. Those with diabetes or those who smoke can also benefit from use of this unit.
It also seems to help people who already have heart problems. Some patients with severe heart failure had a decrease in clinical symptoms by repeated sauna therapy.
With all these new findings it seems to make perfect sense to purchase The X Large EMF Free Negative Ion FIR Infrared Portable Indoor Sauna and put yourself on the road to a healthy, happy lifestyle today. This is the top model recommended by Sauna Revolution!
What Are Some Positives And Negatives?
Positives:
This portable sauna folds up for storage very easily, and may be stored not only in a closet but even under a bed.
The product dimensions are as follows, 31.5" x 33" x 41" This sauna can accommodate almost anyone making it a good choice whether your large or small.
The controller instructions are very, very easy to understand thus making the controller simple to use and for convenience there is also a storage pocket for easy accessibility.
Heats up fast, seems sturdy and zippers work very well.
This product is good for detoxification, relaxation and joint pain and is no problem for someone who has a 300lb, 6′ frame.
Generates more heat than most of the different saunas but draws less power and is EMF free.
With its satisfying design, your head and hands can extend out for reading or watching TV.
Negatives:
Does not come with a step by step guide to using the sauna or refolding it. However it is not to difficult to work out.
Although I considered this product to be a bit pricey I purchased it anyway, but I'm very happy with my decision as out of all the reviews I've done, this is the best personal sauna by far.
Only problem was with the chair, it's very small and seems to be like a child's folding chair, I found it uncomfortable to sit on then the screws came out of the front and I landed on the floor.
My wife finds it heats up a little to hot for her, but I finds it's just right for me.
The integrated heated foot pad is a great idea, but gets so warm it can become uncomfortable.
The Summary
This unit is well designed, lightweight, easy to assemble and folds up easily for storage. It is accompanied by a sports canvas folding chair and two soft terry cloth washable neck collars that zip on and off for easy cleaning.
The unit also includes a remote control with an easy to understand instruction booklet and even a storage pocket for the controller.
The Durherm X Large EMF Free Negative Ion Infrared Portable Indoor Sauna generates more heat and draws less power than competing portable saunas. This means much shorter heat up time, greatly reducing running costs and in a sauna session your body core temperature will rise much quicker.
In my opinion this portable infrared sauna offers all the benefits of the more expensive saunas at a fraction of the price and without any of the space restrictions.