In our highly polluted times, over half of the population in the United States suffers from chronic diseases and ailments and are on medication. Most of these illnesses have environmental aspects so that it becomes very important to detox.
Since ancient times steam has been employed by traditional cultures around the globe to improve and establish beauty and good health.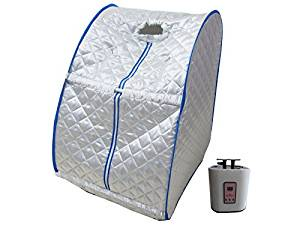 Turkish baths, Japanese steam rooms, Indian sweat lodges, and Finnish saunas are only a few of the many cultural devices which make use of the power of steam.
Portable steam saunas have been in use since 1962 and is a worthy substitute for many of these more well-known spa style treatments.
These saunas are good for anyone, whether you are seeking relief from sore aching joints or are on a serious weight-loss regimen, being able to take your sauna-spa with you wherever you go is a great luxury.
Particulars Of The EZ Home Spa
This is a new EZ setup Portable Fold-able Herbal Steam Sauna Spa. It is therapeutic, easy to use, and a great selection for steam therapy at home.  With this remarkable sauna-box, you can enjoy a relaxed keep-fit program all-year round and lose some weight with no exercise!
You could also choose to add herbs or aroma essential-oil, like lavender, angelica, or chamomile, into the steam-pot to have a superb Do-It-Yourself herbal-sauna for more relaxation.
Based on its affordability, durability, price and extras this sauna steals the number one spot.
Made from a nylon exterior and with cotton insulation, it's a wonderful way to speed up your metabolism and also lose pounds quickly, as you'll learn in this portable steam sauna review.
With a weight just shy of 10 lbs (well, 9.94 lbs or 4.5 kg) this portable sauna is ready to be on the go!
This home sauna is large enough to fit a full-grown man, though it can be folded and stored away conveniently when not in use. It is easy to use and is a very portable product which allows you set it up anywhere you are.
It uses less power and space than more conventional saunas, and offers you the immense pleasure of private steaming sessions while in the comfort of your own home.
It also offers double power off protection so you don't have to worry about falling asleep and getting roasted!  This product uses steam at about 45 degrees Celsius (113 degrees Fahrenheit).
Its design comprises of some of the most desirable features that the best saunas have.  The only extra items that are required are a towel, a small seat (a wooded stool or a plastic garden chair is ideal), and plain tap water.
When you are done, any small amount of condensing moisture that is produced can be wiped up easily using a towel from the inside of-the bathtub. Hot steam, of suitable temperature, can be used as an intermediary.
The separated steam generator has a capacity to hold 1.8L/800W water.  The inside-frame design is very easy to set up and will only take minutes to assemble according to the diagram provided with the instructions.
Some Other Points About This Steam Sauna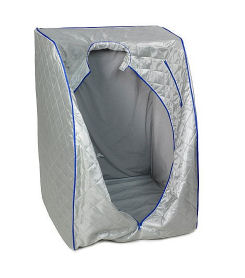 This unit comes with a pre-set automatic timer with temperature settings every 10 minutes that goes up to 60 minutes maximum so you never get too hot or soak too long.
It conveniently plugs into any standard 120V/850W outlet and so anywhere you go, the heater makes this sauna get hot with speed. When the water boils you can choose the "Low" or "High" temperatures according to your preference.
With a choice of timer and power settings, coupled with double cut-off protection this sauna is a safe and effective way for you to take advantage of the beneficial properties of steam to aid you relax and unwind.
More Product Specifications:
Large Size (29"W x 27-1/2"D x 38"H)
Rated Power: 850W, Voltage: 120V, Rated Frequency: 60 Hz
Automatic Timer: Settings-with every 10-mins, up to 60 minutes
Capacity of-water: 1.8L/ 800W generator
Zipper for entrance and zippers for hands
Let's Look At The Positives And Negatives
Pros
Takes about 10-15 minutes to start steaming. This is nonstop and feels rather like a sweat room
It is very easy to set up and fold away after spa treatment for space-saving
It is ready to work for anyone
Cons:
It isn't that portable. It might be more portable if the bars which hold it up get collapsed sort of like a transportable chair. There're about 15+ bar items that connect along.
I'm stunned that there is no warning regarding the hot steam which radiates of the tube. When it initially turned on I placed my hand to examine what pressure ratio was starting up and almost burned my hand.
but still, this Portable Therapeutic Steam-Sauna is totally amazing! Some of the other benefits include:
Lose Weight (calories)
Relieve Pain
Strengthen Cardiovascular System
Strengthen the Immune System
Remove Toxin
Reduce Fatigue, Stress and Energizes
Control Excessive Leucorrhoea (Yeast, PMS)
It is important to note that this product is NOT a medical apparatus and it isn't intended to diagnose, treat, prevent or cure diseases. If a condition persists, seek medical attention from a doctor!
Quick Summary Of The Therapeutic Home Spa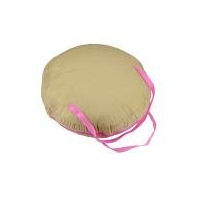 There is herbal box for eucalyptus, tea tree oil, or even lavender to add a little aroma-therapy to your relaxation and enhance the experience even further.
For just over $100 you not only obtain a remote control to adjust the heat but there also are 2 zipper openings so you can hold a tablet or book while enjoying the heat.
This unit has been designed for weight loss and spa detox and the heat after 15 minutes may take some time for you to get used to.  It may take a trifle longer to warm up than publicized, maybe like 15+ minutes though once it does, it is hot.
All in all, this is a great option especially if you like the aroma-therapy aspects.