Infrared saunas are an effective tool for natural healing and prevention. Infrared light has the ability to penetrate human tissue, which in turn produces a host of anti-ageing health benefits.
While we all know sweating is good for you it is also the body's safe and natural way to heal and stay healthy.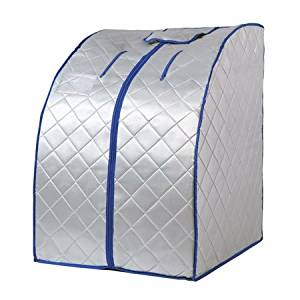 Infrared saunas benefit the body by heating it directly causing a rise in core temperature resulting in a deep, detoxifying sweat at the cellular level, where toxins reside.
The Gizmo 1000w Portable Therapeutic Infrared Sauna Spa XL will give you all the benefits you would expect from a portable sauna. I found this unit to be very simple and easy to use and will help you achieve the healthy detoxifying sweat you need in order to rid your body of the toxins it accumulates on a daily basis.
What Are The Specification Of This Unit?
This unit is very lightweight at only 18 lbs. Making it easy for you to travel with.
No tools are necessary, the set up is very simple and you will find it easily folds up for storage.
Power input is 1000w. This Fir portable sauna heats up to 113-140 degrees Fahrenheit within 5 minutes and has a timer from 5 to 60 minutes. I found this to be a very helpful feature.
For safety reasons this unit also boasts automatic temperature control.
The unit also has a removable neck collar for easy cleaning, and zippers for ease of accessibility.
The sauna comes with a hand held controller which in my opinion is very handy, also a foot pad heater, and a folding chair for a fully comfortable experience.
While the usage size is H41" x W31" x L 33" the product dimensions are 27" x 38" x 32".
What Are The Benefits Of This Model?
While portability and lightweight are key advantages of this model, the health benefits of this infrared sauna are endless and definitely a cost effective way to good health.
Detoxification is a very important step on your way to good health. While it strengthens the bodies immune system it also expels toxins, this infrared sauna raises your core temperature to help expel the toxins in your system.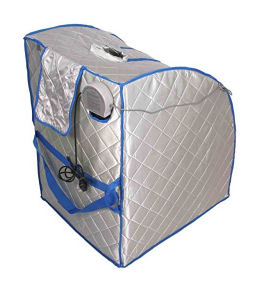 Detoxification also helps the body's biochemical processes function efficiently, so that you are better able to digest the nutrients in your food.
Detoxification has also been shown to be very helpful in the treatment of certain diseases like colitis, chronic fatigue, fibromyalgia, auto immune disease, immune deficiency states, autism, ADD and ADHD.
As well as detoxification this infrared therapeutic portable sauna is a great way for you to lose weight, improve skin tone, and relieve your body of the aches and pains of every day life.
This unit will also aid in increased blood circulation and enhance your immune system, reduce stress and fatigue, and increase overall energy levels.
Unlike traditional saunas that operate at extremely harsh temperatures, infrared units have a gentle, soothing, therapeutic heat that promotes relaxation that in turn improves your nights sleep.
The benefits of infrared include therapy that helps you relax while receiving an invigorating deep tissue sweat, leaving you fully refreshed after each session.
As we know relaxation is very important to good health, and long time stress is the cause of many physiological effects on the body, including high blood pressure, weight gain and weakening of the immune system, all of which affect your well being.
Pros And Cons Of This Unit.
Pros:
I found that the Gizmo 1000w Portable Therapeutic Infrared Sauna And Spa is easy to use, portable, simple to assemble and folds up easily for travel or storage.
There are 3 heating panels inside the machine, one of which is electric powered (back panel), and two that are heat absorbing/radiating on either side of the sauna. This is perfect for heating the entire body.
The heat range goes from 50 degrees Fahrenheit to 140 degrees and cycle on and off for your convenience.
I believe you will find the saunas controls to be simple and easy to use, the control panel is just like a TV remote. You can set the heat levels by number and time by preset minutes.
I found this product works perfectly, and like the fact you can be in the comfort and privacy of your own home.
As another convenience the unit is also accompanied by a folding chair and foot pad.
I like that it is also equipped with a removable neck collar for easy cleaning.
The Gizmo 1000w Portable Sauna plugs in to your standard household outlet, so therefore there is no need for you to be concerned about installation, it uses very little electricity and will not damage your floor.
Cons:
Although the instructions are in English, you can tell they have been translated from their original language, which can lead to a little confusion, however I managed to sort this out with minimal difficulty.
I found that the small folding chair inside the sauna can become quite warm, but by placing a small towel on it, I alleviated this problem.
What About My Conclusion?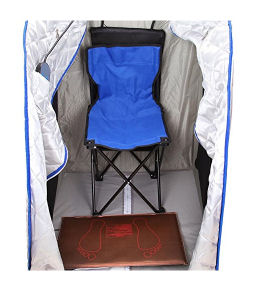 Overall I found the Gizmo 1000w Portable Therapeutic Infrared Sauna And Spa to be well worth the price. It's ease of assembly, portability and performance are second to none.
This Infrared sauna delivers what it promises: It burns calories, increases your metabolism and improves circulation.
Studies have shown that an infrared sauna session can burn upwards of 600 calories while you enjoy a relaxing, soothing, stress free 30 minutes of enjoyment.
I found the heat penetrating effects of this sauna to be instrumental in relieving my muscle aches and pains and am looking forward to a restful nights sleep.
When compared to a traditional or other types of sauna, the infrared sauna was found to expel up to seven times more toxins than it's counterpart.
Infrared saunas have become one of the hottest home therapies for overall healthy living on the market today. So if you are interested in getting yourself back into a healthier lifestyle, the Gizmo Portable Sauna may be the ticket to achieving your wellness goal.