Saunas are a relaxing way to start or end a day and can also aid in weight loss.  When you soak in a sauna you want to sweat. The more your body overheats the harder your heart pumps, and this aids in weight loss.
Neighborhood gyms often have saunas, but memberships are expensive, and you often don't get a ton of alone time either.
For years, at-home saunas were overwhelmingly expensive.
With the Personal Steam Sauna SPA from BodySpa, you can enjoy an at-home sauna that allows you to soak whenever you want at an affordable price.
Chances are you may even lose a few pounds while you relax at home as well.
How the BodySpa Personal Sauna Works
If you've ever spent time in a traditional sauna, you may be looking at the portable steam sauna with some doubts. By design, this sauna is different than regular units but offers many of the same benefits.
To use this product, you simply unzip the carrying case.  The sauna is created with a unique design that allows it to "pop open." Once the sauna has popped open, you will find a small hose that connects to a heater filled with water.
When turned on, the heater warms the water and steam is created.  The timer on the heater can be increased to an hour, but it isn't recommended that you start at an hour.  Most people opt to stay in the sauna for 20 to 30 minutes.
Personal Sauna Dimensions
The sauna is excellent for use in small locations. When opened, the sauna measures 40″ high, and is 25″ wide.
Best Features of the Portable Steam Sauna
No need to inflate
Just remove from carrying case, begin to unfold, and the sauna will spring into shape
Easy to handle, store, and set-up
Use on any surface; including carpet or wood floors
Take it anywhere you go
Metal spring structure
Carrying case included with purchase
Openings for hands and your head
When you purchase this personal therapeutic weight loss sauna, you will receive:
Metal spring structure enclosure
Carrying case with zipper
Tank to hold water
Free eucalyptus leaves
Portable Steam Sauna Pros
Easy to take anywhere
Ideal for small spaces like apartments
Personal space
Arm holes allow you to read a magazine or use the TV remote while soaking
Included eucalyptus leaves will help clear your lungs
Only takes about 10 minutes to heat up
Built in towel cloth around openings
Cons
250 lb. weight limit
Steam may blow directly on feet and lower legs
Is not sold with a chair
Rubber tube is flimsy
Is This The Sauna That Is Right For You?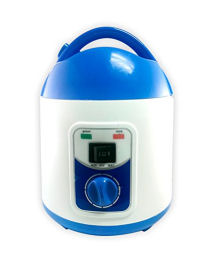 When you stumbled upon this review, you were probably wondering whether this portable steam sauna is right for you or if a different model would suit you better? There is more than one person who may want to purchase this sauna for use in their home.
The first is anyone looking to increase their weight loss through sweating. The portable sauna is designed to make you sweat, which could increase your weight loss when paired with regular exercise and a healthy diet.
The second type of person that would enjoy this product is anyone that has always wanted the convenience of a personal spa in their home but doesn't have the cash to install a permanent fixture in their home.
Whether you leave the sauna popped up or fold it back down and store it in the bag, you will enjoy every minute you use this product in your home.
Conclusion
There are so many reasons to love this portable steam sauna.  It's easy to use, affordable, stores easily and works to help your body sweat.
If this is what you are looking for, you won't find anything better.  You may hear some customers mention that the sauna is hard to get back in the storage case or that the tube doesn't fit in the heater and sauna firmly; however, there are simple fixes for both of these issues.
First, if you are struggling to get the sauna back in the storage case simply look up YouTube tutorials.  There are a few on the Internet that makes it simple to do.  Once you get the hang of it, you'll never have a problem again.
As mentioned above, the issue with the tube can be altered if needed with a few strips of PVC tape.  So, grab a chair, unfold the sauna, turn it on, and enjoy a nice soak whenever you want.
If you think the BodySpa Steam Sauna is the best option for you, remember to check out the prices and other options on amazon.com!