Saunas seem to be a hot topic of conversation these days, and no wonder. Everyday new effects are being discovered about their beneficial uses, not only for your body but also your mind.
They are amazing in their ability to rid your body of undesirable toxins, and at the same time relieve many health related illnesses you may be suffering with.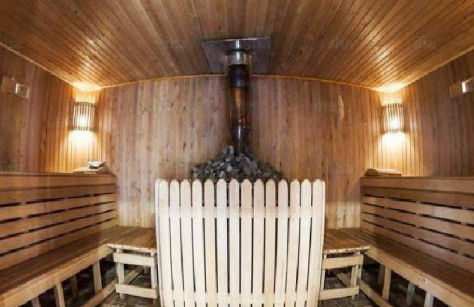 Saunas are a good place to relax. You can relieve stress and anxiety as well as aches and pains after a hard day at work or home. So why not give a sauna session a try? It may be just the thing you need to rejuvenate your body as well as your mind.
Have you ever thought of building your own personal sauna? This is not as difficult as you would think, while there are plenty of ways to achieve this goal you should always research all the possibilities.
So, before you start it would be best if you decide on the type of sauna you prefer. One built into your home, a kit or a purchased personal sauna you should have a plan and budget in mind.
Can I Build A Sauna Room From Scratch?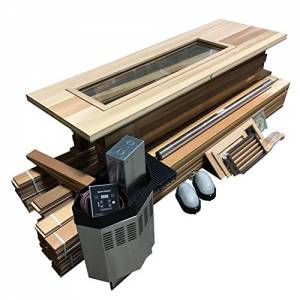 There are two options when considering a built in sauna. The first is the do it yourself option. The second is, hire someone to do it for you.
If you are not the do it yourself type, then you will need to hire a contractor for the job. Preferably a contractor who has had some previous experience installing a sauna or two, and can produce a few references.
This way you can be reasonably assured the job will be done right. After all it is your home and money so you have to have confidence in the contractor you hire. It would also be a good idea to agree upon the price before the work begins.
Once you have decided on the contractor you will use, the next step is the type of sauna you wish to have installed.
Basically there are two types Wet or Dry. The wet sauna is simply when you pour water over the heated rocks, thus producing steam. While a dry sauna is the absence of humidity.
A sauna that uses a wood burning stove, or a more modern electric stove, can be used as either wet or dry. Wet home saunas are often called steam saunas.
Most saunas use a heater and some type of volcanic rock. In both cases the rocks are heated to a very high temperature.
When you use a wet sauna, you sweat a lot which causes unwanted toxins to be expelled from your body. Some people believe this decreases ones chance of certain illnesses, as many viruses cannot live in such high temperatures.
Dry saunas on the other hand are believed to relive tension and stress, stimulate blood circulation and rejuvenate the skin through perspiration, giving basically the same detoxifying effects as the wet sauna. But because it's possible to stay in a dry sauna much longer the process is much quicker.
Just keep in mind whether you hire a contractor to do the work or decide to save the money and do it yourself, if you choose a wet sauna there will be plenty of humidity so the room will need a vapour barrier to keep the humidity from entering the rest of your home.
Can I Buy And Use Sauna Kits?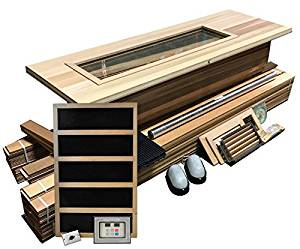 Sauna kits are a very good idea for the do it yourself person, and there are plenty of good quality kits available on the market today at very reasonable prices.
You can also purchase custom home diy sauna kits that are made to fit your renovation plan. They are easy to incorporate as they can be dry walled and painted to match your decor. Price depends on the sauna you choose.
Another choice would be the prefab home sauna kits. These are easy to assemble with pre-built insulated walls and ceiling panels that screw together and sit on a base of your choice.
Prefab modular sauna kits, as they are often referred to, make building your own sauna simple, quick and easy.
The do it yourself sauna kits are the most economical, practical, and cost effective way to build a sauna. They are specifically designed for the do it yourself.
Sauna kits are a simple project, in fact it is said if you can erect a stud frame, you will certainly have no trouble installing a sauna kit.
The kit contains the framing, heater guard and pr-cut mouldings. You will also receive a booklet and drawings as well as the galvanized nails you need to put it together.
Western red cedar is the most popular wood used, as it is considered attractive, durable and has a pleasant mild fragrance.
This popular wood also has some other desirable properties, that allow it to expand and contract which is very important when being used in extremely high dry temperatures along with blasts of humidity.
So if you are considering building your own diy sauna, you have plenty of options to choose from. If you are building it yourself with or without a kit, you will have double the satisfaction, after all you built it and then get to enjoy the sauna benefits of your hard work for years to come.
Building A Portable Personal Sauna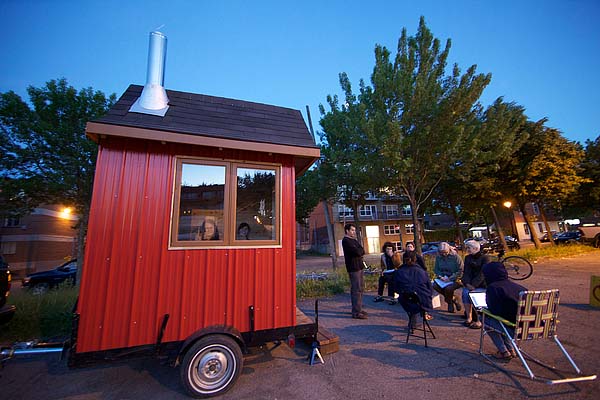 Having your own personal sauna in the privacy of your own home would be a great advantage to your overall health. You can, whenever you wish, that's twenty four hours a day, use the sauna and reap all the benefits it has to offer.
Benefits like, sauna use reduces stress, helps you to relax, aids in pain relief, lowers your blood pressure, increases circulation and promotes younger healthier looking skin just to name a few.
Building your own personal portable sauna sounds harder than it really is. First you need to choose a place, an empty closet for example would be good but keep in mind it should be at least 24 square feet, and as air tight as possible so the heat does not escape.
Assuming you have an empty closet and have chosen to convert it into a personal sauna, there are several things you will need to get started.
Make sure there are no flammable materials in or around the area you have chosen. Make sure there is enough room in the closet to accommodate two or three heat lamps that can be mounted at least two feet away from where you will be stood or seated.
You will then need three 250w heat lamps, these can be purchased at a hardware store or online if you prefer. Now I recommend correctly rated clamp lamps to avoid a fire hazards, look for those rated 300w again these can be purchased locally or online.
Now you need a place in your sauna room to clamp the lamps, luckily for me the closet had a shelf, if yours does not I recommend buying a simple wire rack with two shelves and then you can attach the lamp clamps at different heights for better heat coverage.
You must make sure the lamp shade and lamps don't touch the rack as they will get very hot. Avoid looking at the lights when they are turned on as this may damage your eyes, a good idea would be to wear tanning goggles when using your sauna.
If you should find your sauna does not heat up enough, you may need to purchase a heater. Make sure the heater can run at 750w or less as you do not want to trip you electrical circuit.
Using the lamps as well as a heater should easily get the temperature to between 100 and 120 degrees. You may wish to use a small stool to sit on with maybe a towel under it as you will sweat, the towel will make for easy clean up.
After your sauna, a shower is a good idea as this brings your temperature down again slowly. I hope you use your sauna several times a week and keep in mind if you prefer you can move it to another area in your home whenever you wish.
Maybe I Should Just Purchase A Portable Sauna
So maybe you have decided building a sauna, or having one built, is not for you. You may not like the idea of a sauna kit either. Or anything that requires you to do the work yourself, no matter how easy it's made out to be! But you still want a sauna, well don't worry that's not a problem theses days.
There are numerous personal, portable saunas like these available on the market. You can choose a personal steam sauna or an infrared. These saunas are lightweight and easy to assemble, but best of all no tools are required.
The best part about these are, they can be purchased on line and will be delivered right to your door.
A few minutes to assemble, and your ready for your first sauna in the privacy of your own home.
Remember to take the time to like, tweet, pin or G+ this post! Sharing is caring 🙂