So you recently bought your own personal portable sauna? Now you would like to know how it should be cleaned. Then you came to the right place.
First you may ask what reasons could there be to clean a sauna? Well the number one reason would be germs and the second would be smell.
When it comes to personal steam saunas some of them are machine washable. But for those that are not a good cleaning every now and then would be a very good idea.
Cleaning Your Steam Sauna
Steam saunas have high humidity and in damp places bacteria can grow. To combat this problem just follow some simple steps.
If you use your sauna several time a week, a quick wipe down with a damp cloth to the interior after every session is a good idea.
But every once in a while depending on how often you use it, a very thorough cleaning is recommended. This will prolong the life of your sauna.
Cleaning will also eradicate odor and reduce the growth of bacteria. There are many cleaning materials available for purchase from your pool and sauna suppliers. Or if you prefer you can purchase them on line.
You could also use a mixture of rubbing alcohol and warm water and scrub the inside of your sauna. If you prefer you could add tree tea oil or citrus essential oils for their anti fungal and antibacterial properties.
You can also use this mixture to clean the steam saunas reservoirs and essential oil pots. Sanitizing everything will keep your sauna fresh and free from bacteria.
Cleaning The Infrared Sauna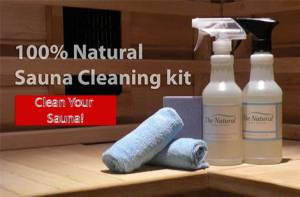 Infrared saunas are great to detoxify and relax in. The use of these saunas has grown quite rapidly over the last several years.
While their method of heat differs from a steam sauna, they must be cleaned periodically. They are easy to clean and if looked after properly could even last you a life time.
To clean your infrared sauna it is important you use environmentally friendly products. They should also be non toxic.
A good cleaner would be organic cider vinegar, mix one part vinegar to 3 parts warm water. And gently sponge down the entire interior of your sauna. Then dry with a soft cloth.
Sweep or vacuum the sauna floor often. You can clean the floor of just like any other floor, with a mild detergent and warm water.
Keeping the floor clean and fresh is highly recommended. That is because this is where the majority of the bacteria will accumulate.
If you have an infrared sauna blanket like one of these, you can follow the cleaning instructions given on this page for that as well.
Keeping your infrared sauna clean and free of bacteria is easy. And will ensure your sauna gives you many years of health benefits.
How Often Should I Clean My Portable Sauna?
How often you clean your sauna will depend on how often you use it. If for instance you use it on a daily basis then it should be cleaned every couple of weeks.
If however you only use your sauna 2 or 3 times a week, then a thorough cleaning would be advisable at least one per month.
Don't forget when you are cleaning your sauna to include your bench or stool! These items should be cleaned as often as your sauna.
Another item, if you have a steam sauna, would be the rocks. They should be washed at the same time as your bench or stool. Or anytime you notice an unusual smell.
You can wash the rocks with mild soap and warm water. Make sure to dry them thoroughly before you place them back in the sauna.
At the same time you can examine the rocks and replace any broken or cracked stones. These can be purchased at the local spa and pool supply store, or purchased on line.
A good idea to keep in mind is the use of towels in your sauna. You can lay or sit on them, they are easy to use, and you can clean them on a daily basis.
Making Your Own Cleaners
Although commercial sauna cleaners are available, either at your local spa and pool suppliers, or on line, you can consider making your own.
As we all know these commercial cleaners can be costly. And don't necessarily work any better than the ones you can make yourself.
A common one you can use is organic cider vinegar. One part vinegar to 3 parts warm water. This works very well and costs only pennies to make.
To rid your sauna of smell or bacteria a small amount of bleach added to warm water is perfect. Just keep in mind it should be a mild solution not to strong.
Rubbing alcohol and warm water is another good cleaner. You can add tea tree oil or any citrus extract or essential oil to the mix to combat fungus and bacteria.
These do it yourself cleaners are easy to make and easy to use and very cost effective. With a little effort and the use of these cleaners you are sure to get years of use from your personal sauna.
Sauna Cleaning Tips
At Sauna Revolution I make every effort to remind consumers of the safe way to use your sauna. You should always make sure you take precautionary measures to maintain the safety and care of your sauna. And every effort should be made to avoid damaging your sauna.
Over time the bench or stool in your steam sauna may become discolored. This is easy to fix with the use of some fine grit sandpaper, just sand over these areas.
If your sauna has an electrical heater simply wipe down with a non abrasive cleaner and a sponge. This will get rid of any dust and dirt and keep it looking great.
Always clean your sauna after it has cooled down, never while it's hot. And leave the sauna open until it is completely dry.
Wipe your sauna down after every use. And check for any repairs it may need. Like loose screws damaged zippers and other problems.
While these portable saunas are built to last. With a little extra care and maintenance your sauna will be offering you all the health benefits you are looking for, for many, many years to come.