Portable home saunas have become so popular over the last few years manufacturers have developed a large array of these full body detox, rejuvenating, affordable machines.
The Radiant Rejuvenator Portable Sauna is a perfect example.
This lightweight, portable sauna is intended for relaxation and recreational purposes. While it is completely portable, and easily folds for storage, it is a great way to relax, stay fit and keep healthy.
Some of the many health benefits include weight loss, improved skin tone, joint pain relief, increased blood circulation, enhanced immune system, reduced stress and fatigue, and increased overall energy levels.
These health benefits of a home sauna are well documented; so if you're looking to lose weight, relieve stress or just want to be as healthy as possible, give this home sauna a try.
What Are The Specifications Of The Radiant Rejuvenator-Portable Sauna?
This sauna boasts a built in automatic shut off safety feature.
The fully insulated unit features triple layered rich looking satin polyester exterior fabric.
Durable reflective, polyester inside material (lock stitched) for superior panel strength.
Energy efficient low EMF carbon

fiber

infrared heater panels.
Pre attached easy fit solid beech hardwood dowel frame support system.
Padded, double lined comfortable neck collar; quality duel interior/exterior front compartment zippers.
Safe easy finger tip hand held controller with 6 automatic timer options.
A quick set portable chair made with oxford canvas fabric.
No tools are needed for assembly.
Completely portable, lightweight and easy to store.
5 levels of pre-set heat temperature options with built in thermostat, 150 degree maximum temperature.
Power supply: 120v, 60hz, 900w: UL approved with a 6.5ft power cord.
As you can see, the sauna is very lightweight at only 18lbs and set-up is quick and easy. With this many features this sauna is sure to please even the most discriminating buyer. I consider this one of the better portable infrared saunas available (click here for the rest!).
What Are The Benefits Of This Home Sauna?
While it is a proven fact that deep sweating has multiple health benefits, not everyone has access to a sauna on a day to day basis. That is until home saunas became available.
If you are an avid fan of health and wellness then a portable sauna would be a good purchase for you. Also the home sauna has many known health benefits and can be a very relaxing experience.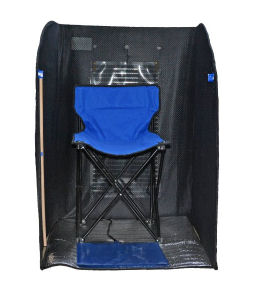 Despite the portable saunas size, it's efficacy in giving you a great sauna experience is never questionable. Aside from being more private, you get to enjoy the experience whenever and wherever you choose.
Perhaps the only difference between the portable and commercial sauna is the number of people they can accommodate at one time. However as to the sauna experience itself, everything is basically the same.
The heat in the sauna is good for your white blood cells, as it is well known that you produce more at increased temperatures therefore giving the body a naturally stronger defense against diseases, thus enhancing your immune system.
Half an hour a day in a sauna can improve your skin. The bodies response to gentle, persistent heat is well documented to initiate accelerated cellular growth which gives the skin a healthy glow.
The heat produced by the machine also increases the bodies metabolism, which is a crucial element in aiding weight loss along with a healthy diet.
While the tension in muscles caused by stress will be alleviated, similarly the sauna will also alleviate the pain and aches of muscles from a hard day at work or a vigorous work out.
Saunas are also a great way to naturally expel impurities and help rid the body of toxins, and a great help in relieving sinus congestion.
Some experts now recommend everyone have a sauna in their home as they have been touted to be the next performance enhancing drug! The ultimate life extension tool as the health benefits are becoming more and more obvious.
Some people say the more often you use a sauna the longer you will live. In fact a medical study on middle aged Finnish men found that men who used the sauna regularly were less likely to die during the twenty years of the study.
Pros And Cons – What Do I Need To Know About This Sauna?
One of the most important features of the Radiant Rejuvenator Portable Sauna is the fact that it's so easy to assemble (no tools needed) and completely portable, it is easy to fold for storage or travel and is also a great way to to keep healthy and fit wherever you are.
Pros:
This sauna comes with it's own chair,.
Easy to assemble.
Takes up very little space.
Energy efficient low EMF carbon fiber infrared heater panels.
Easy to clean, just wipe down with a cloth.
Heats up quickly.
Great value for the money.
Cons:
I found the chair to be slightly uncomfortable. However I was able to alleviate this problem with the purchase of a cushion.
Does not heat up fast enough in a very cold room. Again this problem is also easy to solve, just pack it up and move it to a warmer room.
It takes the full 30 minutes before I start to sweat. Maybe try turning it on a few minutes before you are ready to use it.
Has no back support.
The Conclusion Of Our Review Of The Radiant Rejuvenator Portable Sauna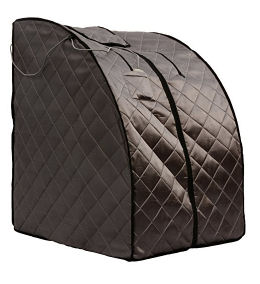 Overall the Radiant Rejuvenator Portable Sauna has very few negatives and what few it does have are easily overcome.
I feel this lightweight portable sauna offers some outstanding features, from it's low EMF carbon fiber infrared heater panels, to it's built in auto shut off.
Also the pre-attached, easy fit solid Beech hardwood dowel frame support system and the quick set portable chair with oxford canvas fabric means setup is quick and easy.
Overall, there are plenty of reasons to love this sauna, it is a great way to relax, stay fit and keep yourself healthy wherever you are.
So if you are in the market for a home sauna you can't go wrong with this one, whether you just want to relax, loose weight or reduce stress you will not be disappointed.