The Far Infrared Sauna + Negative Ion Detox is a long title for a sauna, but then I have a long list of it's attributes.
Some health professionals say using a sauna can help with the pain of arthritis, aid in blood circulation, get rid of toxins and another multitude of health problems, as well as aid in weight loss.
While I am not an expert on these issues I do know spending some down time in this sauna feels awesome.
Saunas used to be built into your home, the problem with this that it can cause mold, mildew and other moisture issues, unless the proper precautions are taken. The sauna must be properly sealed, waterproofed and ventilated and this can be a very costly procedure.
So the introduction of portable home saunas like this model (or these ones we looked at here) has been a great asset to the market. The overall design of these portable machines along with the lightweight construction have made it possible to use at any time in the privacy of your own home.
The Far Infrared Portable Sauna + Negative Ion Detox is a great at home sauna, it's design includes the most desirable features that are used in the most fancy saunas.
This machine is available in two sizes, this alone is a very desirable advantage, as this makes the sauna even more convenient for a larger person.
What Are The Details And Specifications?
This is a great sauna, the Fir (far infrared) sauna heater box applies hi-tech, super conductive, ultra thin carbon fiber heating elements.
With it's satisfying design your head and hands can extend out for reading, operating the TV remote or just sipping your beverage.
Compact folding chair, heated foot pad, and foam floor.
Hand held control, for control of time and heating levels.
Cushioned zipper for neck and both arms.
AC 120v 60hz power supply.
Time controller 5, 10, 15, 20, 25, 30 mins
Low operating costs and very lightweight.
This home sauna is easy to use, portable, and lightweight.
With it's deep penetration of infrared rays, a heating effect observed deep in muscular tissues and even into the internal organs, you will perspire far more than you do in a traditional sauna, therefore maximizing the effectiveness of your therapy.
What Benefits Can This Home Sauna Provide Me?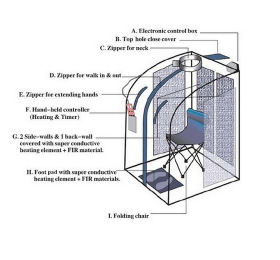 It can help relieve stress by providing soothing heat that relaxes you, so after a long day at the office or an exhausting day with the little ones, you can take a few minutes for your self and be relaxed and rejuvenated.
Deep sweating flushes toxins from your body. In this day and age pollution is all around us and toxins are in just about everything including the food we eat and the chemicals we use. So it just makes good sense to flush them out and with a home sauna you can do this whenever you wish keeping your body in a healthier state.
They can help you sleep better, because you are more relaxed especially if you use your machine close to bed time. Better sleep means a more upbeat and energized you, ready to face the day regardless of what is in store.
Promotes blood circulation, due to the heat of a sauna, the core body temperature begins to rise. The blood vessels then dilate, causing increased blood flow that mirrors the benefits of a passive cardiovascular workout. Just 10 minutes in a sauna corresponds to 30 minutes of jogging for exhaust sweat.
Relaxes muscles and relieves aches and pains in muscles and joints. Under the high heat provided by your machine the body releases endorphin's and this can have a mild tranquilizing effect and the ability to minimize the pain of arthritis and sore muscles.
So as you can see there are a wide range of benefits to buying a home sauna, this model has everything you require on your journey to health and fitness including the advantage of using it at any time in the comfort of your own home.
What Are The Pros And Cons Of This Sauna?
Pros:
Great relief for anyone suffering from sciatica.
Very helpful in the treatment of fibromyalgia.
Updated instruction Manual, that is very easy to read and understand, but even without it the sauna is easy to assemble and pretty much self explanatory.
Your head and hands can extend out for reading, watching TV or listening to music.
Intelligent temperature automatic preset control for various levels of heating.
Compact folding chair, foot pad and foam floor.
Cushioned zippers for neck and arms.
Comes in two sizes, Regular size is 27" wide, 32" deep and 38" high. The larger size is 32" wide, 34" deep and 41" high. , this is very helpful for the larger person.
Low operating costs.
Cons:
Difficult to get comfortable as the chair does not promote good posture and seems to be very narrow.
Instruction Manual is very difficult to read. ( Note – the manufactures have updated the instruction Manual making this no longer an issue)
I feel the heat may not be evenly distributed as my calves and feet are the least sweaty when I get out.
So In Conclusion…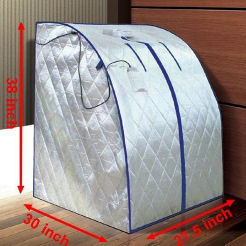 The Far Infrared Portable Sauna + Negative Ion Detox is definitely good value for the money, especially if you can't afford to build one of the big wooden infrared saunas this is a very effective alternative. This machine works very well and fits into any sized home.
Its design includes the most desirable features, usually present on the more expensive and fancier sauna models. With this portable Far Infrared sauna you will have even more convenience and benefits than you would with a large sauna.
The high heat efficiency helps you perspire, and promotes blood circulation and helps expel toxins, and excess body fat to help you stay healthy.
We believe this to be a great sauna that can be used in any room of your home. The advantages of the infrared sauna far out weigh any negative ones.
This is a very cost effective way to detoxify, energize, beautify, slim down and ease tension thus promoting your overall good health.